Business Grade VoIP Phone Systems with reliability and Professional Support you can understand and appreciate
Telephone systems designed with your business in mind.
As the market becomes more and more globalized, keeping up with the competition requires progressive communication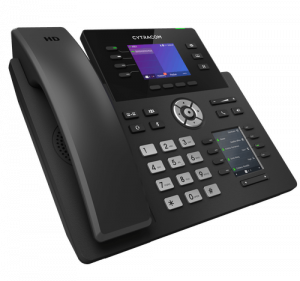 technology. Small and medium-sized businesses like yours need the same advanced and reliable communication solutions as large companies do, but without the high costs or frustrating complexity.
With a professional VoIP installation and support from Chicagoland Cloud, your business can enjoy all of the benefits of modern communication techniques that are tailored to your needs for an affordable price, keep your existing phone numbers, enjoy unlimited local and long distance calling, and have no long term contracts to worry about.  Best of all, we can support your VoIP system so in most cases if you have a phone issue or a network issue, one call to us allows us start on your issue ASAP.  Tell us you that you have a problem and we will gather the details to troubleshoot it and resolve it without you needing to make another phone call.
Benefits of VoIP solutions from Chicagoland Cloud are:
Economical – Cut your telecom costs (up to 60% in some cases) and avoid extra setup, installation, maintenance, and overage fees.
User-Friendly – Easily understandable at-a-glance interface.
Geo-Redundancy - Ensures industry-leading availability and uptime by connecting phones to multiple data centers simultaneously.
Dependable – Your hosted system is monitored and maintained 24x7. Our phones have a lifetime warranty with them.
Upgradable – Get new phones every 3 years for no additional cost. Evolve your business to take advantage of new phone technology.
Feature rich – Over 150 enterprise class advanced features included.
Functional - Our phones can be installed on wireless and Ethernet based connections and have PoE capabilities.
Quick list of enterprise class advanced features
Get big-business features in a phone system that's easy to use and right-sized for your business. Some of the most popular features include:
Unlimited Calls
Text Messaging
One Number on all Devices
Voice Continuity
Hunt Groups
Call Queuing
Voicemail to text messaging
Call Recording
Custom on hold music
Auto Attendant
Call Center
Custom Caller ID
Time of day routes
Company Directory
Flexible call routing
Visual Voicemail
Centralized Device Management
Mobile and desktop based apps
To request a free VoIP consultation, contact us today.